Is It Worth Hiring A Mobile Bar for Your Next Event?
We all know a bar is important for a great party, but what if your event venue doesn't have one?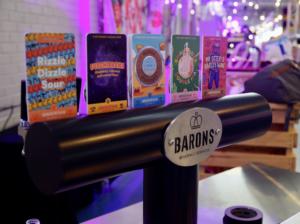 As an event organiser, you want to ensure your guests get the perfect flow of drinks all night long, but is it really worth getting a mobile bar system for your next event?  Hiring a mobile bar system can make sure your next event's drink selection isn't limited to bottled beers and soft drinks! 
Greater Flexibility
Mobile bar systems are flexible.  Hiring a mobile bar system gives you freedom to choose a great venue without a fixed bar.  You can put the bar wherever you choose, instead of designing your event layout around the bar. Plus, who doesn't love enjoying a fresh pour out in the fresh air? Hiring a mobile bar for spring and summer events means your bar can be located outside!  At Barons, our mobile bar systems are designed specifically to handle Australia's ambient outdoor settings, built with an ice-cold hybrid chiller from Bracton and an insulated font from Andale! 
There's a Range of Sizes 
Whether it's a large-scale event that calls for a range of beers on tap, or a small celebration that with just one or two crowd-pleasers, there's a mobile bar made to suit your needs. At Barons, our four and five-tap variants are a hit with craft breweries for festivals. Or if you're looking for something smaller, portable countertop systems can deliver fresh draught beer without the hassle. 
Customisable Signage
Mobile bar systems are a great way to get your name out there and stick to a theme. They can be spruced up with one-of-a-kind bar signage to promote your brand, increase interest and attract thirsty customers.  At Barons, we offer customisable signage for the front and sides of our mobile bars. Our bars are easily dressed up or down to suit your event. Check out some of the awesome mobile bar signage by Barons customers here.
Serving Draught Beer is Cost-Effective 
If you're looking for a cost-effective way of getting beer to your guests, draught beer is the go! If you're serving a large group and large volumes, brews by the keg are more economical than by the bottle. Plus, if you're a vendor hiring a system to sell your pours, you'll be pleased to know that Barons mobile bars are protected by an RCD and come with a double GPO on top of the bar for POS systems! 
If you're thinking of hiring a mobile system, look no further than Barons! We've got a huge range of quality systems, from one-tap to five-tap variants – we've got you covered for your next event. Take a look here!